SEO
Offering

While all of our websites adhere to industry SEO standards, we also offer additional customised SEO strategy for optimal results

SEO (Search Engine Optimisation) is a complex discipline focused on improving your website's natural ranking in Google search results. Google's search engine uses a variety of methods to determine which pages are displayed first in the natural results. The exact 'formula' is a Google kept secret - and changes frequently - but there are certain known things which can be done with your website and content to improve your ranking.

While all of our web-box websites incorporate standard SEO practices as part of the initial set-up and so adhere to industry SEO standards, we also offer custom SEO strategy. We will setup the custom SEO strategy after discussions with you about areas, focus, products, etc and analyze and adjust SEO components monthly.

There is no way of guaranteeing a website can be found in search engines for words and phrases relevant to what the site is offering, but there are ways of ensuring your website stands the best chance possible of being on page 1 of the search results.

If you are an agency that concentrates on a few very specific suburbs, or you are in a niche market where there is not an enormous amount of competition, then additional SEO strategies focused on these specifics would naturally improve your search engine rankings. Our strategies focus on improving Google's perception of your website's relevance and authority in those markets, which are two areas that are known to be important in your ranking.
Paid vs Natural search results: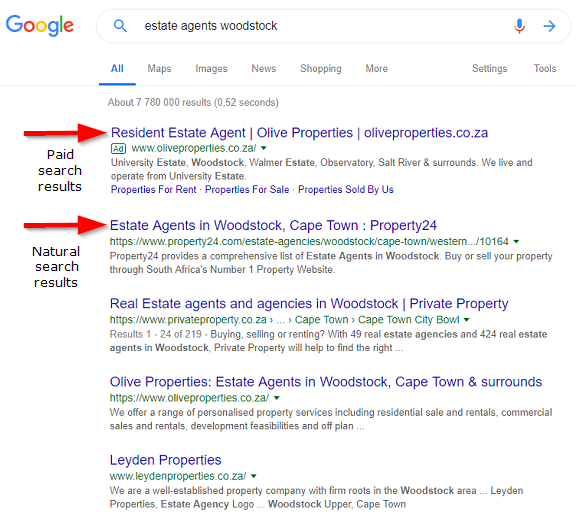 What does it cost?
Once-Off Setup: R4 000 + VAT
Includes analysing your current ranking, analysing your current website content, working with you to create a list of your most important keywords and changes to website content if needed, implementing changes to your website and monitoring for 1 month.
Monthly management fee: R1180 + VAT