Google Display Ads
Offering

Online Marketing for Estate Agencies

Google Display Ads are custom designed advertisements that can be displayed to people online who are located in targeted suburbs and who browse targeted websites. With smart technology such as algorithms and location tracking, a potential client can strategically be shown your agency's advertisement without ever searching for it. So, Google Display Ads give you the opportunity to advertise on those websites, mobile apps and online videos that are likely to be popular with your ideal customer.

For instance, a person in Constantia could be browsing websites at home and because you have targeted Constantia, your professionally designed advert will display on their screen, reinforcing the fact that you are a strong estate agent in the area. When this homeowner considers selling (or buying), you will be top of mind.

We create and setup your ads, then manage them monthly. You choose areas you believe your target clients frequent, we'll choose websites we research are most used by your target clients and with smart reporting and managing, we can adjust your choices as we go along.

FAQ:
What websites will the ads appear on?

We research website use/demographics etc stats and choose

Examples are: timeslive.co.za, iol.co.za, enca.com, citizen.co.za, news24.com, ewn.co.za, nypost.com, cnn.com, ananzi.co.za, ewn.co.za
What times of day will the ads appear?

We generally set the ads to appear "all day" and google spread the ads out over the day - we do check the hourly impressions and that google are good at not dumping ads at odd hours.
How many times will the ads be shown a month?

This depends on how much money you are spending, but on the budget we have recommended you should get around 40K impressions per month
Examples of the ads: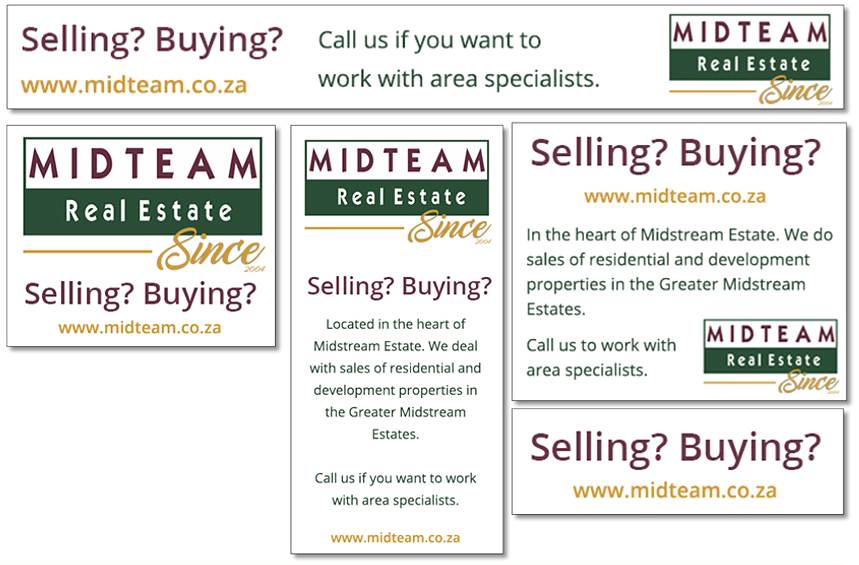 What does it cost?
There are two portions of costs, which are as follows:
Once-off Setup: R2 000 (4-hour setup - including design of 6 layouts in different sizes to be used for campaigns. Ads are placed on websites by Google based on the space available for advertising so having 6 different variations is what Google suggests to get your Display Ads placed on more websites.)
Monthly Costs:
To web-box: R625 (1-hour management per month)
To Google: R750 (This can be adjusted based on results*)
* As the Display Ads are run via Google, a pre-paid budget is set as to how much you want to spend per month and Google will display your ad until the budget is depleted. This budget is adjustable, so you can choose how much you spend. Every impression or click attracts a small fee. We recommend a starting budget of R750 per month. Please note this is highly variable and changes over time and from area to area.